Barclays Bank in Beverley is currently undergoing a refit though the contractors carrying out the work seem to be showing little regard for the banks neighbours and those trying to access Beverley town centre.
Outside the bank they have fenced off most of the pavement to park a van, mini digger and a generator while further down the street outside the Beaver Pub, North Bar Kitchens, Grants Restaurant and Help the Aged vans are parked on the pavement making a serious hazard for pedestrians.
One of the managers on the site cam and spoke to us and asked why were taking pictures, we pointed out the obvious hazards and dangers that people faced to which he replied 'Anyone with a push chair or wheel chair that needs to pass can cross the road' clearly it would be far more simple for his vans to park legally.
On requesting details of name of the contractor we were told to look on the window round the back of the bank, however we did not find the name of the contractor in stead we discovered two vans parked in a loading bay.
HU17.net today contacted Barclays Bank who advised us they would pass on our comments and pictures the to area manager for Beverley to look into matter and genuinely seemed concerned about what was happening in Beverley.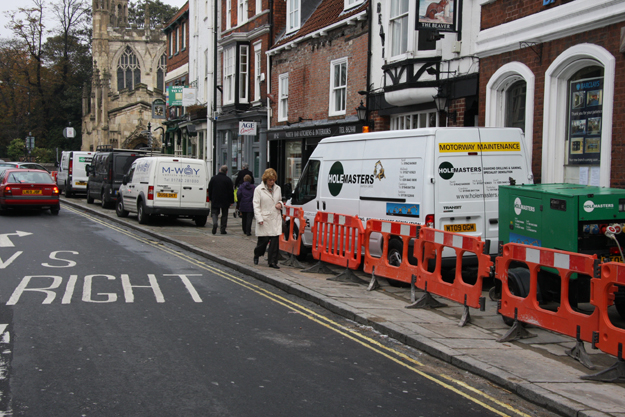 Long line of vans parked on the pavement outside making it tricky for people to access the town centre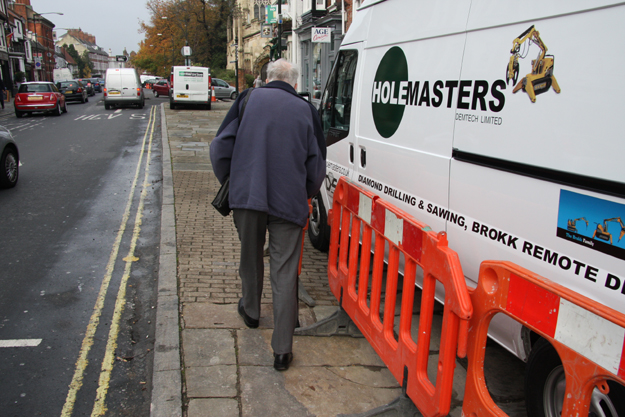 An elderly man navigates the barriers which block the footpath so work can be done on Barclays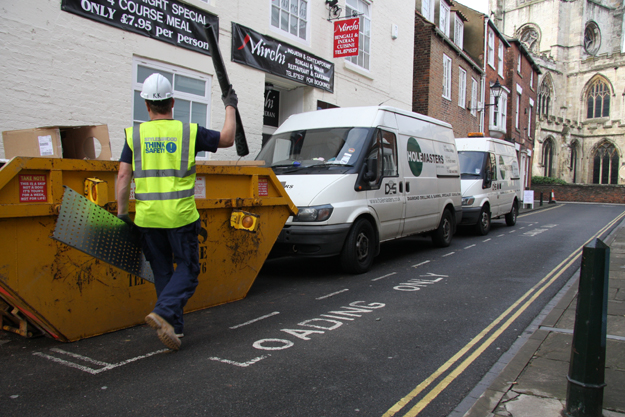 A workman with the words 'Think Safety' on his back and two more contractors parked in the loading bay
Use Facebook to Comment on this Post